Childbirth Classes
Portland, OR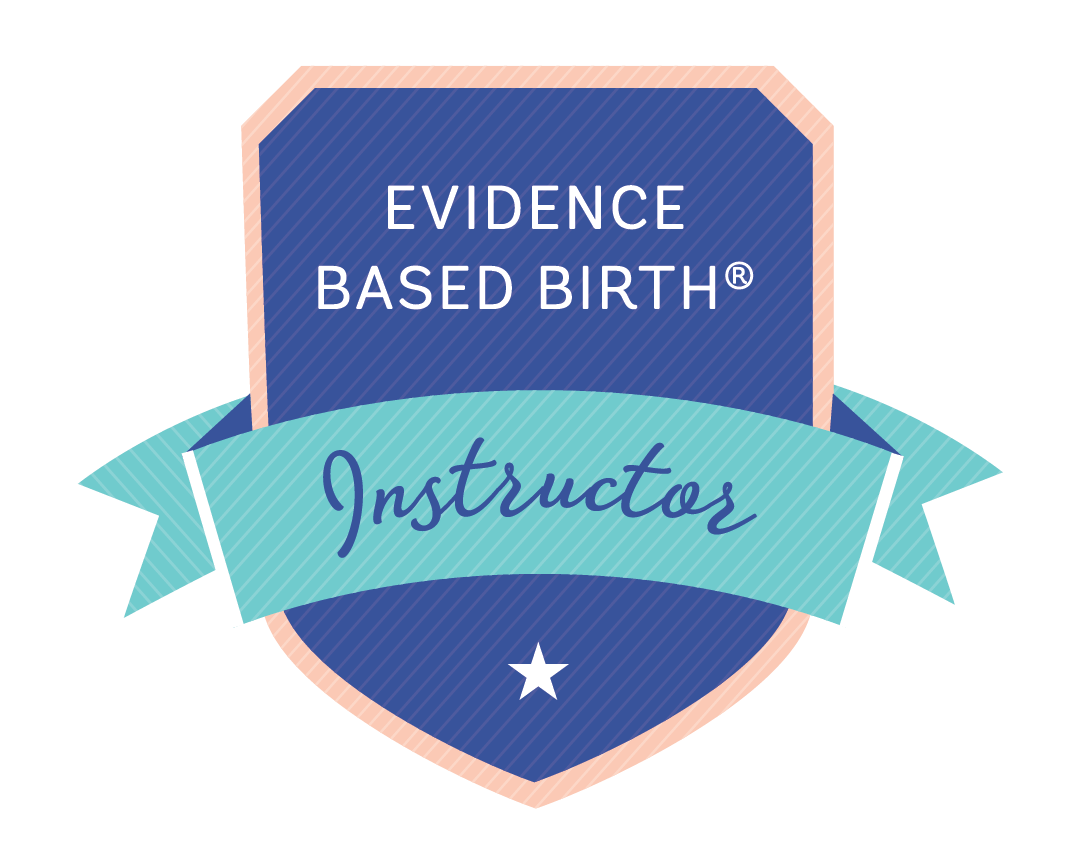 Get empowered with a Childbirth Class you and your partner will LOVE!
Start learning evidence-based info today—register now!
A message from Scarlett Lynsky, your Evidence Based Birth® Instructor:
When I gave birth for the first time, I was young and naive. Like most people, I sort of stumbled into the care provider I chose, but unlike most, I stumbled into respectful, compassionate, evidence-based care from a Certified Professional Midwife. My birth was exhilarating! Even though my body felt pretty beat up, I had never felt more powerful in my life. As I gathered stories from more and more friends and acquaintances, I realized that my positive birth story was the exception not the norm, which broke–and still breaks!–my heart. As a birth doula for the past 10 years, I see how doctors, nurses and midwives have the best intentions, but are often limited by the flaws in the maternity care system and take power away from the person giving birth in small and large ways. You deserve to have an empowering start to parenthood, and I'm here to help you learn how to work that system to your advantage.
Listen to what some of the first students of the Evidence Based Birth® Childbirth Class have had to say:
"This class is a total gamechanger for us. I'd heard negative stories…I was scared and very on edge. Then once we started taking the class, and when we learned about interventions that I was apprehensive about… It brought us together in that [my partner] understood birth more, and I understood it more. And as soon as I went into labor, we were on. We were a team."
"I really appreciated how informative it was. I knew a lot about the biology of birth and babies, but what we learned was just very impressive. It was a really good experience—fairly chill, fairly laid-back, and not nearly as stressful and awkward as I thought it might be. All the information—I never would've thought there was that much information out there!"
When you take the Evidence Based Birth® Childbirth Class, you will:
Get mentored by your own Evidence Based Birth® Instructor!

Learn about evidence based care, comfort measures, and advocacy

Get prepared, get answers, get empowered!

Ready to Get Empowered? Register for Your Class Now!
Spots in each class are limited (6 couples per class), do not wait to schedule.
*NOTE- There are 6 sessions in this class, 2 in-person sessions (one on Oct. 20th and the other on Nov. 24th), the sessions in-between will be held online using Zoom*
Your Childbirth Class includes:

Mentorship from Scarlett Lynsky, experienced EBB Instructor

Two in-person classes to practice your labor skills

First in-person class Sunday Oct 20, 3-5 pm

Comfort Measures Rehearsal Sunday Nov 24, 3-5 pm

Five weeks of online videos for you and your partner to watch together

BONUS: Breastfeeding and newborn care videos

BONUS: Four video chats with your Instructor and classmates!

BONUS: Earn points throughout the class to redeem for prizes at the end!
Next class series' start on:
October 20, 2019
January 19, 2020
What are the registration options?
Basic + Deluxe
Choose the package that works best for you!
Standard package: Includes 3-months access to the online portion of the class, spiral bound workbook, two in-person classes, and four video-chats with your class. Priced at $300.
Deluxe package: Includes 6-months access to the online portion of the class, spiral bound workbook, two in-person classes, four video-chats with your class, and an additional private Zoom session with Scarlett to discuss your birth plan. Priced at $360
Earlybird discounts also available!
Inclusion Policy:
Evidence Based Birth® is committed to creating an inclusive and welcoming environment for pregnant persons of any age, religion, race, sexual identity, gender identity, or relationship status.
Refund Policy:
Your payment reserves a spot in the class and is non-refundable, but tickets are transferable with adequate notice and approval from Scarlett.
Questions
If you have questions, just email me at scarlett@hatchlingspdx.com
Rebozo Classes for Parents & Professionals
In this workshop you will learn so much more than mere techniques. You will learn how to incorporate the rebozo into your practice, explore how to connect and communicate more deeply with partners and dads, understand brainwave states and their relevance to the birthing mother, and you will practice using the rebozo for comfort, relaxation, visualization, and establishing intimacy.
Workshops are ICEA approved for 6 CEUs.
Regular registration will be $150.
Lamaze Childbirth Classes
"A Five-Part Series; 
First time parents need it all! 
 Save $50 by taking all 5 sessions! Save even more by taking the pre-recorded option.
Lamaze 1&2  should be taken as early in your pregnancy as possible.
 Lamaze 1: Pregnancy & Labor which takes you from the common discomforts of pregnancy & how to cope to understanding what the end of pregnancy is all about. How to identify when your body is warming up for labor and how to know when it is The Real Deal!  
 Lamaze 2: Birth & Postpartum takes you through both out-of-hospital and in-hospital labor, interventions and when they might be necessary, a better way to anticipate the pain of labor and birth, signs and stages of labor, the immediate postpartum as well as planning for the first few days and weeks at home.
Comfort, Breathing & Relaxation –  ideally you'll complete this class about 4-6 weeks prior to your due date, giving you adequate opportunities to prepare your body and mind for the task of labor. 
 Our Comfort Measures class prepares the laboring person and their partner to shave time off labor with daily practices that help align the soft anatomical tissues to work well when labor begins. You'll learn massage, positions, acupressure and more tools for comfort. You'll learn mental strategies to cope with pain, anxiety and worry. Homework pages are filled with additional resources for you to use at home.
It takes a village! The Breastfeeding class helps dispel myths about nursing and sets a plan for good supply, comfort and helping your baby sleep better.
 Successful Breastfeeding for the Family prepares everyone to support the milk maker! Breastfeeding is run by hormones and they need a specific atmosphere to run optimally. Good positioning, a few landmarks and postures as well as scheduling visitors wisely have a big effect on how well breastfeeding will go in the early days. Milk supply, what to do for discomfort, helping baby latch well and how to toggle between pumping and nursing as well as getting ready to go back to work are all subjects covered in this 3-hour session. 
This class is a favorite! Being a brand new person is confusing. Learn about the neurological needs of a newborn, how their sleep differs from ours, ways to simplify caring for them and using touch to communicate and calm both yourself and your baby.
 Newborn Care, Calming & Massage, because babies don't come with instruction manuals! What does a newborn look like? Cord care, diapering, bathing, funny rashes, tiny fingernails and more! Babies cries and what they're telling you – and how to calm a fussy baby in seconds instead of hours. An 8-minute massage technique to use from Day #1! Practice will doll models and go home feeling excited and ready to meet the love of your life!
We have a class or package just right for you: Weekday mornings, evenings or an all day Saturday event. Click on any choice to register. See the "Upcoming Events" tab above for our Calendar.
*Save $15-$50 by choosing a package
Private Class – $225
     Up to 3 hours of the subjects that matter most to you.
Pre-recorded Online Class – $60-$250
     Ideal for travelling partners or as a makeup if you miss one of your sessions.
Based in Beaverton, Oregon, Brenda conducts classes with couples all across the US.
These two classes may be combined into a one-day "Labor in a Day"
Or you may take them over two weeknight evenings – your choice!
LIVE one-on-one Web Class is now available.
What makes birth work – and what breaks it – You can do this! 
You just need a little GPS system – and we'll show you how to read it! 
Pregnancy discomforts and some practical remedies. 
How to find reliable resources on the pregnancy/birth topics that mean the most to you with evidence based research. This class introduction is full of great information, presented in a fun and relaxing way – that will inspire you and your labor support partner.
Lamaze Part 2:
Birth & Postpartum
P.A.I.N. is not a "four-letter word"; it's a messenger and it can be used effectively for your baby to tell you what he or she needs you to do, to facilitate descent and exit!
The Induction Seduction! We'll talk about some hospital procedures in case you need a little help, with enough detail so you can make true "informed consent" or "informed refusal" by being an educated consumer, not a "good patient". 
Signs & Stages of Labor are described, helping you know the difference between just warming up and The Real Deal! 
Make a simple birth plan right in class.
Then we spend the last hour preparing you and your partner for a more positive postpartum period. 
Learn ways to ensure that you can be as rested as possible, taking the necessary time and placing healthy parameters around your nest so that you are protected as a new mommy, the nurturer needs nurturing too – and how to teach your visitors to really help out and not hang out.
This session serves as a great refresher class for parents who've "been there/done that" and are ready to do it again, or do it BETTER! 
A full 3-hour, hands on demonstration of ways to help you be an active participant in your birth. 
BREATHE and birth through pain. It takes practice!
You will learn positive internal practices to help you prepare mentally for birth, positions that help birth be more effective and less painful; your partner will learn massage techniques, pressure techniques, how and when to use cold, heat, water, FOOD and drink to keep your marathon of birth progressing normally. 
These techniques are helpful whether or not you plan on using pain medications, or no matter if you're at home or in the hospital.
Click on any link to register:
LIVE and in person for the birthing person and 1 support person $80
LIVE in our Virtual Classroom $80
Pre-recorded class 30-day access $60
This is another 3-hour session to inspire you that you can FEED the baby you GREW 😉 .. It does take a village to help you out – making your nest calm and comfy – feeding and nursing YOU so that you can do the same for your tiny babe.
We teach your partner and anyone else who may be supporting you at home during the first few days/weeks how breastfeeding works – and what breaks it – so that you're more likely to be flourishing as a new feeder!
We teach you ways to keep babies from needing to cry without cause, ways to get more sleep and make abundant milk and teach your partner about his important role – and it has nothing to do with offering a bottle – daddy's are nurturers too – they just have different equipment but it's just as valuable, if they know how to use it!
Click on any link to register:
LIVE and in person for the birthing person and 1 support person $80
LIVE in our Virtual Classroom $80
Pre-recorded class 30-day access $60
Newborn appearance, characteristics, what they can see and do from birth onward. Keeping babies happy during the initial weeks, learn to activate their tiny calming reflexes so that there is less crying, more sleeping and more smiling!
Using doll models learn the basics of baby care including bathing, diapering, umbilical cord and circumcision care, colic holds and how to comfort a crying infant. We discuss common newborn health concerns, signs of illness, how to take a temperature, and when to call the pediatrician.
Nighttime parenting info includes safe sleep guidelines, SIDS prevention, swaddling techniques and tips to help your baby sleep.
We close with learning an 8-minute massage routine that makes a nice 'end of day' habit – easy enough to teach grandparents and care-givers. It increases baby's ability to eat and digest food, gain weight and sleep sounder. It also calms the giver of the massage. 
Click on any link to register:
LIVE and in person for the birthing person and 1 support person $80
LIVE in our Virtual Classroom $80
Pre-recorded class 30-day access $60
Lamaze Healthy Birth Class Series
 When: Mon, November 18 through December 16th, 2019
6pm – 9pm
Description: 
Join me in our spacious classroom near Market Street. This FIVE PART series of 3-hour sessions is designed to replace your fear with confidence. Whether you are the birthing person or part of the support team, learning about the hormonal design of labor and childbirth is easily supported or broken. By planning now and preparing for this very special day, you can set yourself up for the BEST STORY of how you met your little one for the very first time. 
Topics Covered: See individual tabs on each session. 
 Registration required for directions & entrance information:
Private Class Sessions